"
III. A. 2. SEO Content
SEO content for a website should be based upon the keyword research. Ideally, the menu navigation and the main categories of the site should use optimal keywords. The potential audience for your site can tell you precisely what information your site should contain by the terms used in search queries.
When the main categories for a site have been identified, keywords should also drive the decisions made regarding what webpages within the site should be created. This content architecture is the SEO blueprint of a website.
After making a list of proposed webpage titles, a sub list of keywords should be developed for each title. These keywords should be used to generate subheadings (heading tags) on the page. The content strategy for each webpage provides the outline structure of an article for the SEO Web content writer.
The SEO content strategy, based upon keywords, might also include videos, e-books, images, charts, maps, widgets, tutorials, forums, blogs, news, products, services, etc., that searchers want to find and that your site could provide.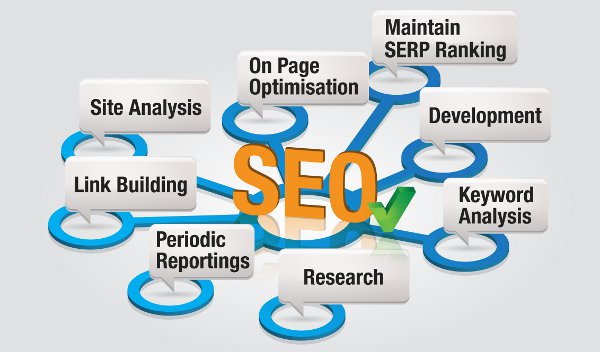 The most successful content plans for SEO include one or two creative ideas that may or may not be discovered from keyword research. Every effort should be made to find the exceptional, unique ideas for content that will set a site apart from all others. This content will be essential for securing inbound links for off-page search engine optimization.
The actual website content writing will be the decisive factor for your success with visitors to your site, both humans and search engines. Carefully edit your Web content according to the Google Panda algorithm.
III. A. 3. Meta Tags
Meta Tags (meta elements or meta data) are programming code statements which give information to search engines about the content of a webpage. Several types of Meta Tags are significant for search engine optimization. The following Meta Tags are the ones most important for search engine optimization.
Robots Tag
The Robots Tag gives search engines permission to crawl a site for indexing. Blocking the robots with this Meta Tag means the site will never appear on a search results page; it's an SEO killer.
Meta Title Tag
The meta Title Tag (page title) should use targeted keywords and a lure. The Title Tag appears at the top of the browser (the blue heading in the image below) when a webpage is loaded. It also titles the webpage listing on the search engine results page and, therefore, should be written to persuade a searcher to click on your listing.

"
-
WHAT IS SEO? | SEO Tips and Tutorial 2014 http://bit.ly/20IZPYg
via Tumblr http://ift.tt/1SL1KZH